Register for a tournament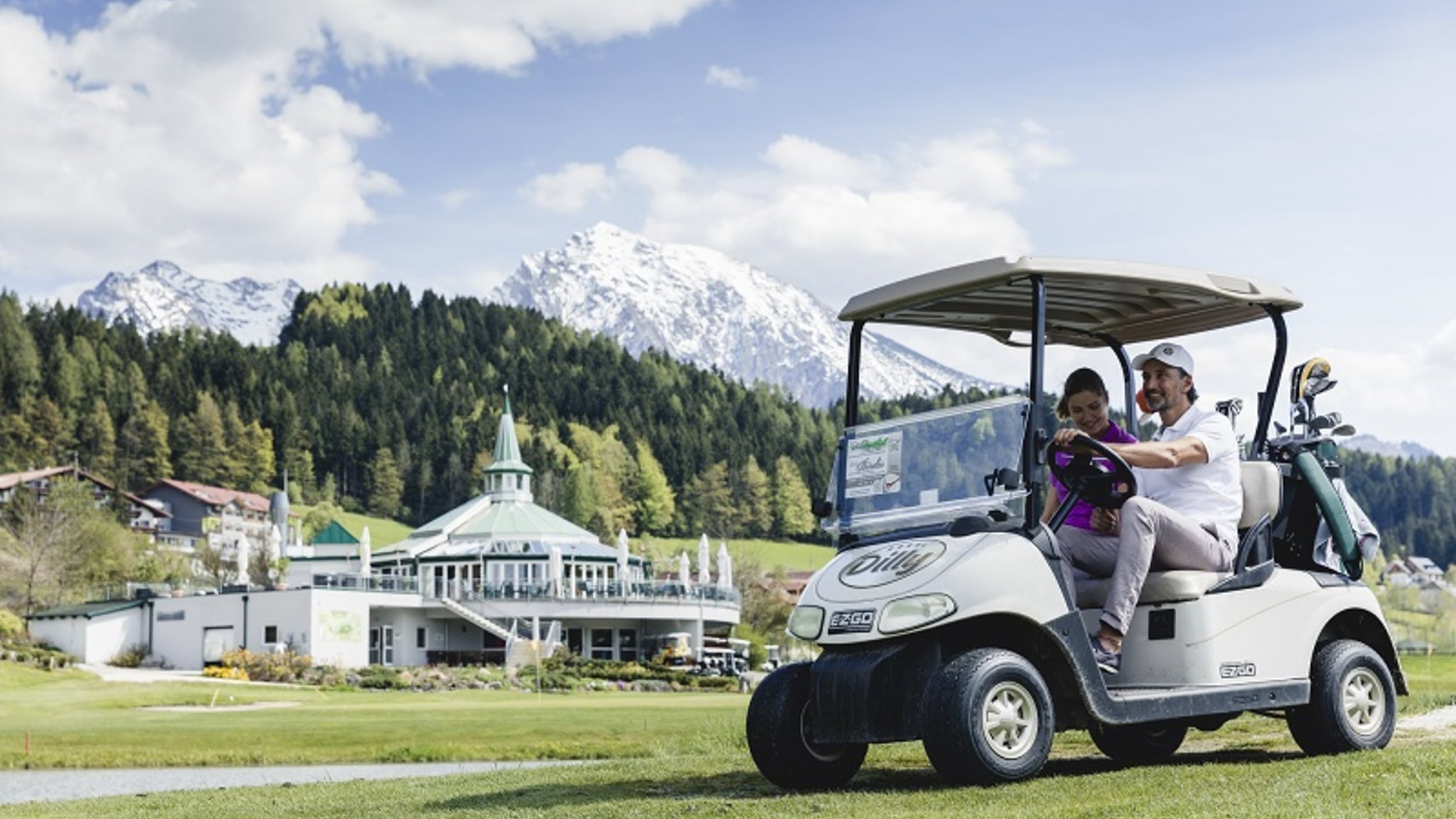 AT THE DILLY GOLF COURSE
CONSCIOUSLY TEE OFF.
CONSCIOUSLY SURROUNDED BY PEACE AND IDYLLS.
ON A GOLF HOLIDAY IN UPPER AUSTRIA
Golf fans are guaranteed to get a hole-in-one on a golf holiday in Upper Austria. We're talking about the 18-hole Dilly Golf Course which, with its moorland landscape against the backdrop of striking two-thousand-metre peaks, is more than just an ace up our sleeve. Golf school, practice bunkers and covered teeing grounds ensure that the secret of your swing is quickly revealed – but the view can be distracting.
THE BEST VIEWS
FOR GOLFING PLEASURE
We've got what it takes to inspire every golfer. The first 9 holes have views of the Sengsen Mountains. When teeing off and putting, you'll have spectacular views of the Totes Gebirge Mountains. The other 9 holes lead around the Edlbacher Moor. Six holes can also be viewed from the clubhouse.
EVENTS AT THE GOLF COURSE
OUR SALETTL RESTAURANT
From a staff party to corporate and client events with your own golf tournament to birthday parties, christenings and dream weddings – the Salettl can accommodate any event, with space for up to 150 guests. Special gourmet delights and a unique atmosphere await you, with the option of fully opening up the roof.
FOOTGOLF
THE NEW AND TRENDY SPORT
Here, you'll swap your club for a strong foot. And the round ball has to go into the round hole. This fast-growing sport from the USA has taken hold here too. At GC Dilly you will find two 18-hole footgolf courses. You need to shoot a football into the hole with as few kicks as possible – trying it out will be fun, won't it?
CONSCIOUSLY PUTT THE BALL INTO THE HOLE
JUST CHIP IT IN
ALWAYS THERE FOR YOU
ONE CALL IS ALL IT TAKES
Do you have questions or are you on the look-out for active support for your event planning? You can come to us at any time. We know what's important.