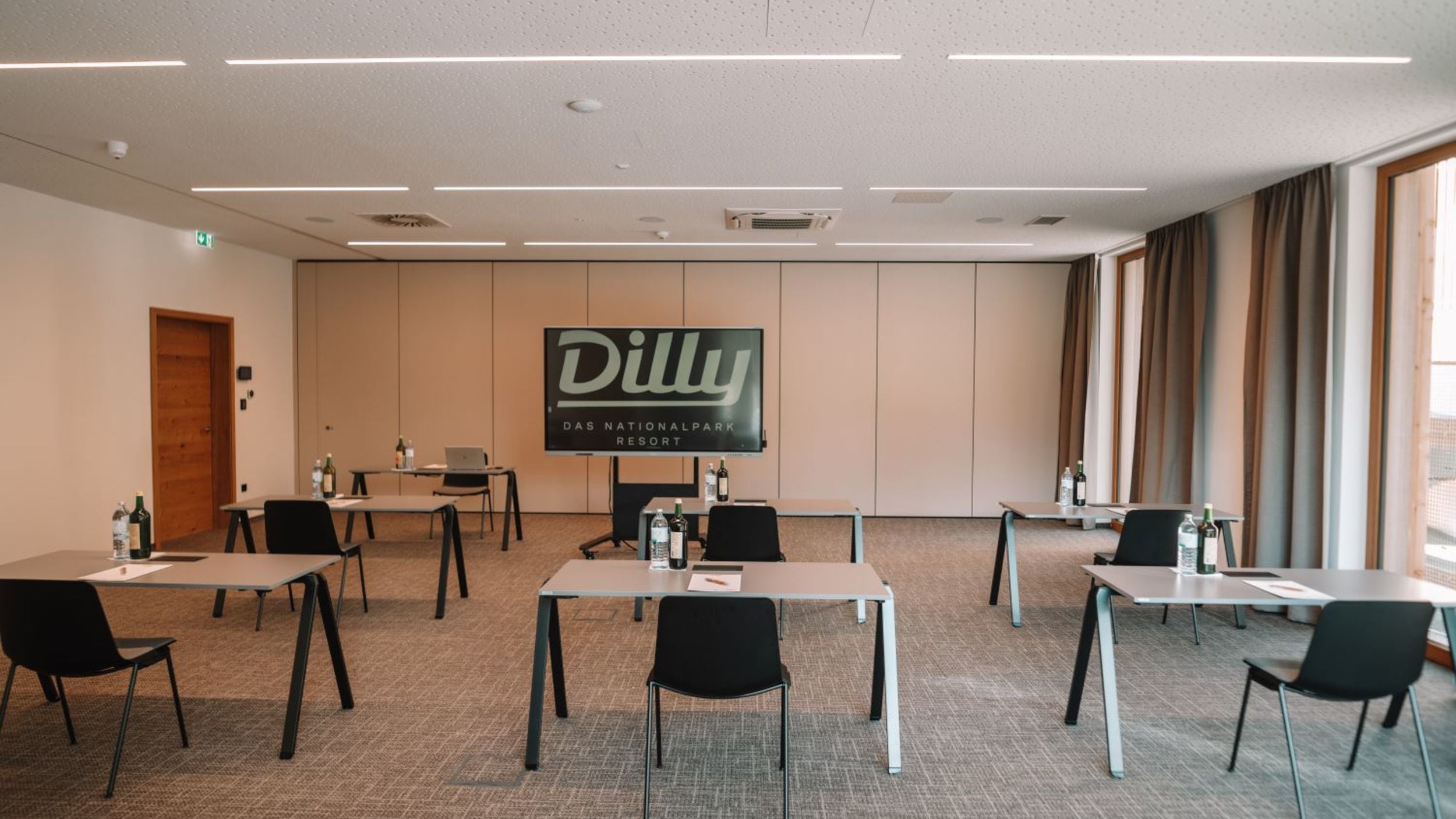 AT SEMINARS & EVENTS
CONSCIOUSLY COME TOGETHER.
CONSCIOUSLY GIVE YOUR IDEAS FREE REIGN.
AT THE SEMINAR HOTEL IN UPPER AUSTRIA
Share ideas, brainstorm, tinker around. In and around the Dilly, you'll find a space for wonderful brainwaves and successful team building. State-of-the-art technology and new rooms combined with delightful inputs, the best service, a free parking garage and a top leisure offer – this makes us one of the most popular seminar hotels in Upper Austria. Work and relaxation are consciously aligned here.
CONSCIOUS SPACE FOR BRAINWAVES & EXPLOSIVE IDEAS
CONSCIOUS SPACE FOR BRAINWAVES & EXPLOSIVE IDEAS
CONSCIOUS SPACE FOR BRAINWAVES & EXPLOSIVE IDEAS
CONSCIOUS SPACE FOR BRAINWAVES & EXPLOSIVE IDEAS
CONSCIOUS SPACE FOR BRAINWAVES & EXPLOSIVE IDEAS
CONSCIOUS SPACE FOR BRAINWAVES & EXPLOSIVE IDEAS
EXCLUSIVE PACKAGES
ALL INCLUSIVE
Our meeting package includes much more than your seminar room of choice and the technical equipment. Enjoy all-round culinary provision, park safely and conveniently in the hotel's own parking garage, relax in the various wellness areas and use the fitness studio. From May to October, the AktivCard is also included with lots of free leisure experiences.
SUPPORTING PROGRAMME
THERE'S ALWAYS SOMETHING GOING ON
First work, then play. We'll take care of the second part for you. Whether it's a cycle tour, a torch-lit walk, a high ropes course, archery, footgolf or a golf taster course – there are so many different options for after-work fun and teambuilding. We would be happy to organise your own personalised supporting programme based on your wishes.
EXCLUSIVE PACKAGES
FOR A SUCCESSFUL MEETING
Dilly - The National Park Resort offers space for up to 100 people and will spoil you and your guests with tasty delicacies from the region. Your celebration will be rounded off with musical entertainment, a romantic torchlight hike or a guided snowshoe tour. We leave nothing to be desired!
Gourmet and culinary delights are important to us. That is why we always prepare regional dishes for our guests with products that are delivered within a radius of less than 100 kilometres (the "U100R" culinary concept).
For your Christmas party you can choose from a menu (3-6 courses) with a choice of three main courses or a festive buffet. Vegetarian and vegan food as well as any intolerance will of course be taken into account when you have made your selection. In both variants, the non-alcoholic drinks from our drinks fountain are included.
Enquiries to: wellness@dilly.at or +43 (0) 7562/5264 (0)
GIFTS FOR EVERY OCCASION
VOUCHERS FOR YOUR EMPLOYEES
Give your employees a wellness break at Dilly - The National Park Resort!
Our DAY SPA package includes:
Use of the entire wellness area on 10,000 m² with 17 different saunas and 7 pools
Lunch snack including hot and cold dishes, coffee, cake
Bathrobe and towels for hire
from 9:00 to 17:00
Price from € 79 per person
Alternatively: Value vouchers from € 25 for services of your choice or stay vouchers!
FULLY EQUIPPED
EQUIPMENT INCLUDED
You think about your goals, we'll think about the rest. Whether it's a small group or a conference with 180 brilliant minds – at the Dilly you will find the widest range of rooms, from 15 to 300 m² (including terrace). They all have one thing in common though: modern technology and equipment.
PROJECTOR & SCREEN
For presentations & Large format videos
PINBOARDS & FLIPCHARTS
As a visual aid
COPIER
For black and white or colour copies
PODIUM
Speaker visible to everyone
MODERATOR'S CASE
With little cards, markers & more
MEDIA SHOP
For other seminar accessories
CONSCIOUSLY COMBINE WORK AND RELAXATION
YOUR DAYS CAN BE THIS RELAXED
"ALL INCLUSIVE"
THE SUPERIOR HALF-BOARD PACKAGE FOR SEMINARS
The seminar day starts with a breakfast buffet. We provide Danish pastries, vegetable sticks, bread rolls and fruit for two coffee breaks. At lunchtime, snacks, a salad buffet and desserts await you. A five-course gourmet set meal or themed buffet rounds off the day indulgently. All alcohol-free drinks are included.
WELL-EARNED RELAXATION
THE CALM AFTER THE STORM IN YOUR MIND
At the Dilly it's all about: meet & retreat. After the seminar day, you can broaden your horizons in the new rooftop SPA with event saunas and panorama pool and clear your head in the fitness room. A total of 17 different saunas, seven pools, two natural bathing ponds and a wide range of massages get body, mind and soul going again.
CAN I USE THE WELLNESS AND FITNESS AREA?
WHAT SERVICES ARE INCLUDED IN THE "ALL INCLUSIVE" SEMINAR RATE?
WHERE CAN I PARK? ARE THERE E-CHARGING STATIONS?