Value Vouchers
Accommodation Vouchers
Dilly's Gift Voucher
Interactive gift voucher
for any amount and a personal message
Advantages:
This voucher can be designed as you wish (amount & message).
This type of voucher can be redeemed in one go or in portions.
Purchase the voucher with your credit card and receive the voucher by e-mail immediately.
Accepted value range:
between € 20.-- and € 3,000.--
Delivery method
Presentee
Preview with inscription text
Add another voucher
Continue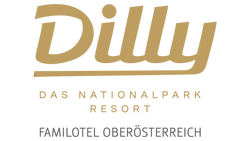 Familotel Oberösterreich Dilly Resort
Dilly's Wellnesshotel GmbH
Pyhrnstraße 14
A-4580 Windischgarsten
Austria
Do you have any questions?
+43 (0)7562 5264-0
+43 (0)7562 5264-500
Your data is safe!
Encrypted transactions
In an encrypted transaction, the data is transmitted securely from your computer to us and protected from third-party access.
Voucher 1
Dilly's Gift Voucher
€ 20.00
Delivery method
by e-mail
To me
Total price:
€ 20.00
VAT included